I take responsibility for the formation of JAPE Productions in 2018.
It began as a collaboration with my long-time friend and theatre colleague, Peter Franksson. The idea was to pool our experience into writing and performing our own comedy sketch show, based on the vintage BBC Radio series "Round the Horne". We would perform live on stage, scripts in hand, being two thirds of a threesome that included actress Jacqui Padden.
Several performances were recorded, resulting in sufficient material to broadcast as podcasts under the title The Red Rose Tattoo (now part of The JAPE Collective below).
Once Covid put a halt to live theatre in 2020, we switched entirely to producing "audio dramas", which allowed me to adapt two of my own short stories, The Quiet One and Seller Vee, for broadcast. A catalogue of our work, including adaptations of Peter's stage scripts Dummy Cabs and Teething Problems, is now available through platforms like Apple Podcasts and Spotify. Search for The JAPE Collective.
Five years after launching our team, Peter and I have finally started to work together on scripts and our first joint piece The Menu New is now available for er… consumption?!
Question: What does JAPE mean?
Answer: Jacqui : Alan : Peter = Entertainment!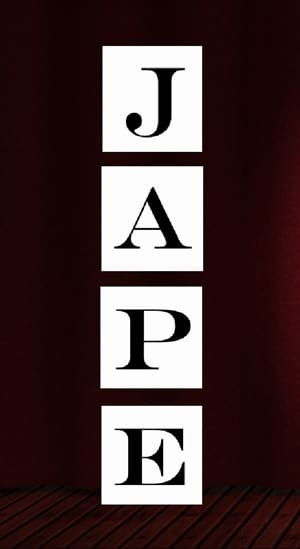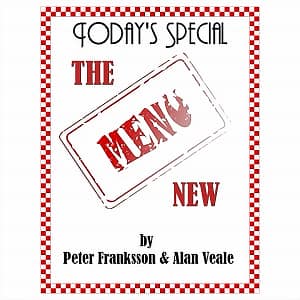 We love what we do. Our mission is to produce our own quality material, and to enjoy ourselves in the process. Our latest audio drama is a case in point, and this feature is intended to give an insight in to how it was produced.
It has taken a long time for Peter and I to produce a script that has been jointly written. Until now, we prepared scripts separately, read them together, and suggested improvements. I have also taken some of Peter's material and amended it for audio purposes. But The Menu New was a very different animal.
It started out as a challenge. Peter offered me a page of script he had started, and asked me if I could continue it for another page. Which I did, and then handed it back. (The joys of working online!) Then it came back to me with another page or so added, and I did likewise. The script took shape, passing back and forth like a tennis ball over the net. It was a challenging exercise at first, nothing more – but then it began to feel like it had some worth. Once it was finished, and read between the three of us, we made a few more tweaks before it was ready to record.
That presented more challenges. Taking a leaf out of one of my favourite comedy movies What's Up, Doc? (Barbra Streisand, Ryan O'Neal), I included a scene where Val and Scott duck under their dining table to have a more private conversation. Knowing how such a cramped position can affect the way we speak, I made Jacqui and Peter record the scene in similar circumstances. Our recording studio is at Jacqui's home, and here we were able to use her piano to stand in for the restaurant table! Never let it be said that actors have it easy…
"The Menu New" has been added to The JAPE Collective, and you can listen to it HERE.    
Your Award-Winning Writers!!!
It's not often we get to blow our own crumpet, as my mum-in-law used to say. Today breaks the mould in spectacular style, as Peter Franksson and I have BOTH had our writing skills recognised – in the United States of America.
The scripts for Who Cares? and The Quiet One have made a short list of TEN to be recorded and broadcast in January 2024. We wait nervously to see how an American cast cope with scripts that were written with Northern English accents in mind! There'll be further news soon on this event, Season 3 of MauHaus Productions' A Blind Play of Social Forces. (Click on the highlighted text for more details)
Curiously, the audience statistics for our audio dramas show 41% in America, beating the UK into second place at 27%, and Germany close behind at 26%. COME ON UK!
JAPE Productions is a professional theatre company operating in the North West of England.
Get in touch for a no-obligation discussion.
I first met PETER in 1991, when we acted together in several projects. Curiously, as children we once lived within 500 metres of each other in Lytham, but only discovered the fact in 2020!
JACQUI has now grown accustomed to acting as our referee, as well as taking on multiple female roles in our scripts. A professional actress with more experience on her CV than she's prepared to admit, she readily admits keeping a straight face while working with Peter and I is her most challenging role.
Below are some recent examples from The JAPE Collective:
(Clicking on the images will take you directly to a host page where you can listen to what we do!)
An elderly woman wants to get rid of her husband. Why won't the man at the Citizen's Advice Bureau help her out? And why on earth won't Bernie eat his bacon butty?
When your luck finally runs IN, what do you do? Barmaid Shani hates being short of money, so when a thousand pounds turns up in her shopping bag, she has some tough decisions to make. As her colleague Miserable Martin puts it: Seller Vee!
Julie has had a gruelling day at the care home where she works. She just wants a glass of wine and a cuddle – not necessarily in that order. She has a colourful story to tell, but why won't David come out of the kitchen and help Julie unwind?
A dentist and his assistant are faced with an unusual extraction when an unorthodox patient dies, leaving them with a stolen bag of cash.